DISCOVER YOUR HERD'S POTENTIAL
Genomic testing is changing the way dairy producers make management, selection and breeding decisions on the farm. Using genomics, a heifer's genetic potential is revealed early in life, genetic progress can be accelerated with confidence and profitability is enhanced by capitalising on higher production potential.
Delivers reliable predictions of genetic merit based on test results of core traits.
Enables more confident selection decisions for a more valuable dairy herd.
Provides a lifetime of information early in life.
WHAT IS CLARIFIDE®
CLARIFIDE is a genomic selection tool to assist in the detection of superior dairy heifers from as early as birth, allowing for more informed selection and breeding decisions.
CLARIFIDE and Young Heifers
Animals within your herd have a range of genetic potential. Without testing, it's impossible to assess them accurately.
Make smart decisions with fewer guesses when it comes to selection and breeding.
Manage heifers according to their potential.
Avoid the expense of raising genetically inferior animals.
Recognise high-genetic females and apply sexed semen, embryo transfer, in vitro fertilisation, etc. to drive faster progress.
Identify heifers that may be better used as recipients for high-quality embryos, bred with conventional semen or sold for other purposes.
Address fertility haplotypes and genetic conditions that can be better managed in mating programs.
Validate parentage to more correctly address inbreeding through mating program.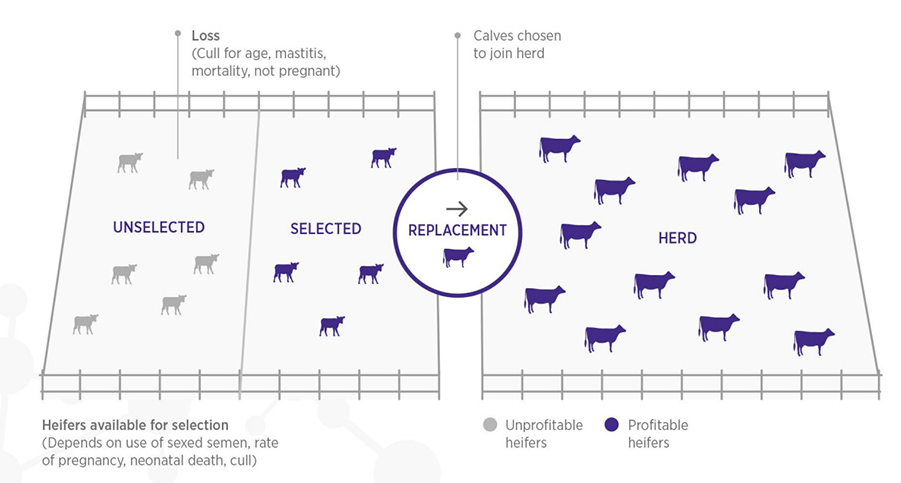 Do better than relying only on parent average
Thanks to CLARIFIDE's Genomic Predicted Transmitting Ability (GPTA) values1.
Reveal more about the actual genetic potential of the animal instead of simply measuring an average of the parents' estimated genetic makeup.
Delivers 60% to 70% reliability2 as opposed to 20% to 30% for parent average3.
Dairy producers can anticipate with confidence and make decisions with science and history on their side.
GPTA values are derived from the USDA-CDCB dairy genetic evaluation system using CLARIFIDE data.
Zoetis data on file. Results from analysis of cumulative 3K and 6K results reported from USDA-CDCB dairy genetic evaluation as of September 2012 and associated submission data.
Source: USDA-CDCB evaluation for CLARIFIDE-tested Holstein females ≤12 months of age as of April 2014. Median value for NM$ in this data set = 22%.

You are leaving the country website to access another site in the group.
Regulatory constraints and medical practices vary from country to country. Consequently, the information provided on the site in which you enter may not be suitable for use in your country.