WHAT YOU NEED TO KNOW ABOUT YOUR DOG/CAT'S CANCER
Written by Dr Georgina Crewe (BVSc, MSc)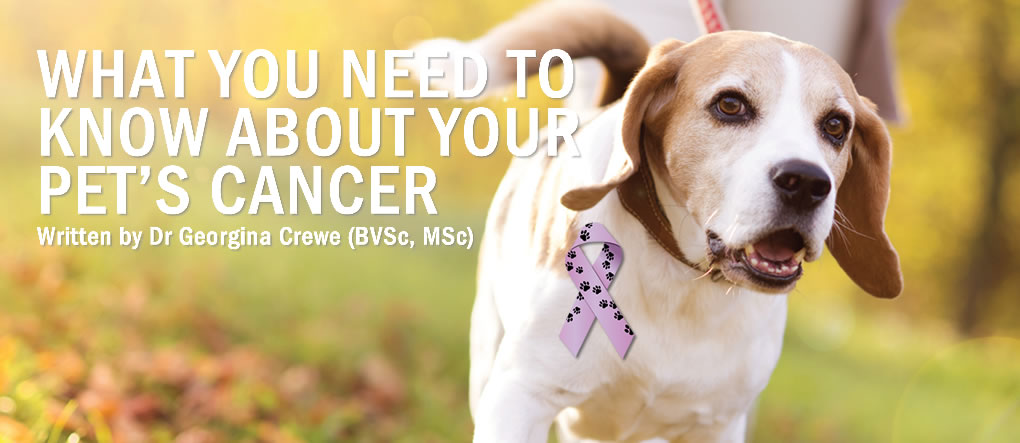 And the vet said "Your dog/cat has cancer".
Your heart starts to race, sweaty palms and panic sets in. Then the vet calmly says, "Usually this is a manageable disease" and starts to give options for different treatment regimes. Apparently this isn't an immediate death sentence, something can be done. The "something" treatment ranges from curative, control or palliative (reduction of pain), depending on what type and stage of that particular cancer is present. Basic treatment for cancer includes surgery, chemotherapy and radiation. All treatments try to eliminate the cancer cells from the body. Combinations of these treatments are often administered simultaneously.
Cancer is described as a disease of ageing and/or of inflammation. Oncologists in the US estimate that 50 percent of geriatric dogs and 33 percent of geriatric cats will die of cancer. So it can be expected at some stage during a pet's life that you will be confronted by cancer.
The definition of 'Cancer' is the uncontrollable growth of cells caused by damage to the cell's DNA.
Cancer lumps either grow bigger in one place or spread to other places via the lymph or blood vessels (metastasize).
The earlier cancer is detected and treated the better the prognosis. So, if you see lumps or lesions on your pet that do not heal properly, ask your veterinarian to check the cells and do a biopsy if necessary.
Be proactive as cancer cells can multiply at a frightening rate doubling the size of the lesion within a week or less.
THE MOST COMMON CANCERS IN DOGS & CATS IN SOUTH AFRICA ARE:
Solar Induced Skin Cancer
In South Africa whether it is summer or winter the UV rays from the sun are very harmful. It is these UV rays that damage the controlling gene in the DNA of the skin cell resulting in skin cancer. This cancer is commonly found on dogs, having little or no pigmentation or hair on the abdomen or the face. The cats are vulnerable on the pink noses, white ears and around the eyes.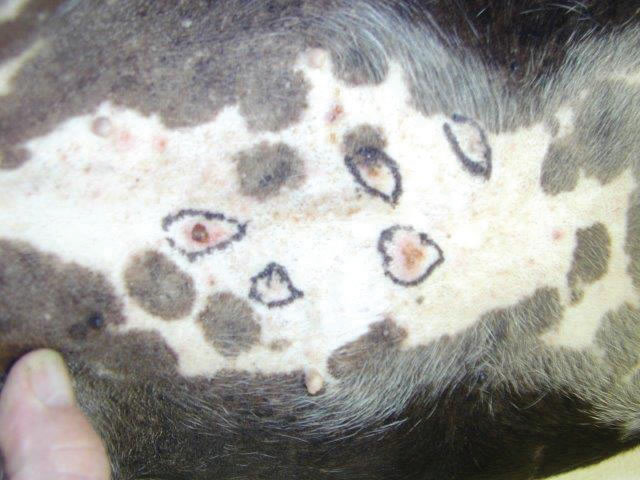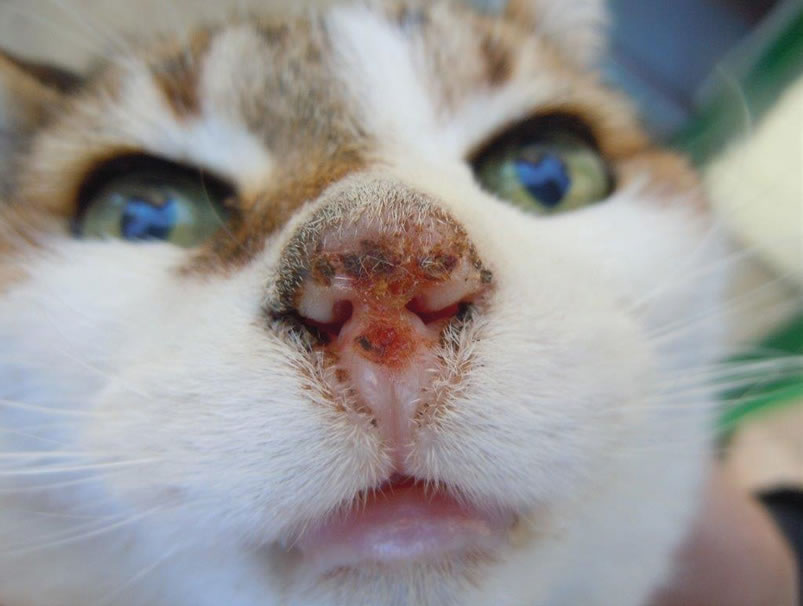 To prevent excessive solar exposure:
a) Dogs; use ultraviolet block out body suits.

b) Cats; keep them in a room during the day with a window UV protection covering but leaving the infrared (warmth) and visible light.

c) Sunscreen eight hourly block (e.g. Rubber Ducky) works on small areas of skin.

Ultraviolet block out body suites
Mast Cell Tumour (MCT)
Cutaneous (skin) Mast Cell Tumours (MCTs)
MCTs are visibly the most dffcult tumours to judge and a fine needle aspirate of any suspicious "lump" should be examined. Confirmation using a biopsy may be needed. The pathology report is useful for understanding how aggressive the tumour is. Radiation for the primary cutaneous tumour is a most effective way to consolidate the tumour before surgery. If the tumour has metastasized (detected by use of ultrasound examination) both radiation for the primary and chemotherapy for the secondary tumours are necessary.
MAST CELL GRADE 3 : Radiation, Operation and radiation. Total radiation 10 x 3 = 30 Gys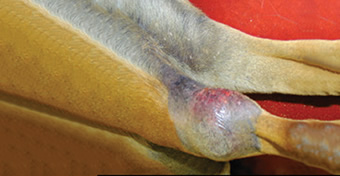 At presentation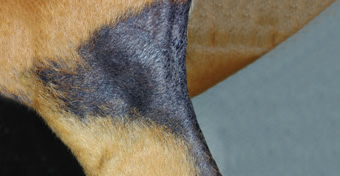 Three years later
Soft Tissue Sarcomas
There are many tumours in this category e.g. liposarcoma (fat cells), chondrosarcoma (cartilage cells), fibrosarcoma peripheral nerve sheath tumours and more. Biologically they generally behave in a similar way; usually they are found in the subcutaneous tissue, they grow slowly, usually do not metastasize, but often recur after surgical excision. These tumours require very wide surgical margins as they are surrounded by a pseudocapsule that allows the cancer cells to escape. If they are radiated pre-operation (consolidation), they are easier to remove in their entirety.
Histiocytoma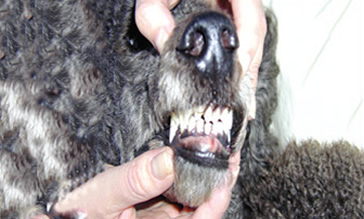 At presentation not eating 12 x 2Gys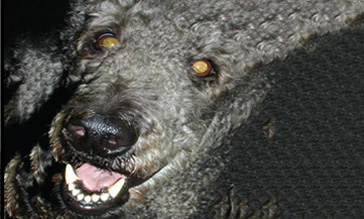 63 months no recurrence