Improvac®
Reg No. G3643 (Act 36/1947)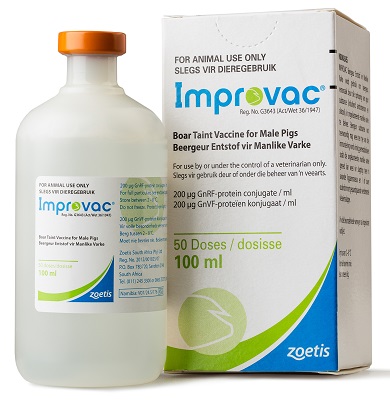 Expand All
Improvac® is an injectable vaccine.
Improvac is prepared from an analogue of GnRF linked to a carrier protein. It is adjuvanted with a synthetic aqueous adjuvant to increase the level and duration of immunity. Each ml of vaccine provides 200 µg GnRF-protein conjugate. Thiomersal 0,1 mg/ ml has been added as a preservative.
Improvac Boar Taint Vaccine for Male Pigs is used to control boar taint caused by the accumulation of taint substances (including androstenone and skatole) in entire male pigs. Taint substances that may already be present at the time of vaccination are rapidly metabolised, allowing the entire male pig to be presented for slaughter at a heavier weight and / or older age with improved meat quality.
Through its inhibitory effect on GnRF (Gonadotrophin Releasing Factor) and testosterone production, Improvac Boar Taint Vaccine for Male Pigs also modifies the behaviour of peripubertal male pigs which may be evidenced by increased weight gain during the post-vaccination pre-slaughter period. This increased weight gain may also result in an increase in fat deposition.
This product is contraindicated for use in breeding stock. Inadvertent vaccination of male breeding stock may affect subsequent fertility.
The dose on all occasions is 2 ml, injected subcutaneously. The recommended site for injection is at the base of the neck, immediately behind the ear.

Primary Vaccination:

Two doses of vaccine should be administered to entire male pigs at an interval of at least 4 weeks. The second dose should be given 4 to 5 weeks prior to slaughter.
The above recommendations on method and timing of vaccination, and injection site should be closely followed to ensure optimum effect and minimise carcase damage.
Effective immunity (the development of anti-GnRF antibodies) develops approximately 10 to 14 days after administration of the second dose. The second dose, at least 4 weeks after the first dose, is essential to limit the further production of taint substances. The second dose of vaccine must be given 4 to 5 weeks prior to slaughter to control taint substances already present in the carcase.
Entire male pigs intended for slaughter at 26 weeks of age will therefore receive their second dose of vaccine at 21 to 22 weeks of age, their first dose of vaccine having been given at 17 to 18 weeks of age or earlier.
Only for use in male pigs.
Keep out of reach of children, uninformed persons and animals.
Accidental self-injection may affect fertility in both men and women and pregnancy. Not to be administered by women of childbearing age. Care should be taken to avoid accidental self-injection and needle-stick injury when administering this product. In the event of accidental self-injection, seek medical advice immediately.
Some swelling may develop at the site of vaccination, and in a small proportion of pigs, may last for several weeks before gradually subsiding.
This vaccine has been fully tested for potency, sterility and safety before issue but it must be stressed that the correct vaccination procedure in the field is equally important if secondary infection is to be prevented. Very occasionally, pathogenic organisms from the animal's skin or lying dormant in the animal's tissues are activated at the time of vaccination and are able to initiate a local infection at the site of injection. This may lead to stock losses, but fortunately is of rare occurrence.
Uncommonly, environmental sources of skatole can also contribute to taint, equally affecting females, castrates and entire male pigs. The major predisposing factor to this is absorption of skatole through the skin in a wet and soiled environment. Certain feedstuffs have also been implicated as a source of high skatole levels in the carcase. The use of Improvac Boar Taint Vaccine for Male Pigs cannot counter this uncommon event.
Although this vaccine has been extensively tested under a large variety of conditions, failure thereof may ensue as a result of a wide range of reasons. If this is suspected, seek veterinary advice and notify the registration holder.
For the use by or under the control of a veterinarian only.
Store between 2 ºC – 8 ºC. Do not freeze. Protect from light.
250ml pack and 100 ml plastic multidose container
DISCLAIMER: ALTHOUGH GREAT CARE HAS BEEN TAKEN IN THE COMPILATION OF THIS DOCUMENT, READERS ARE REQUESTED TO REFER TO THE PACKAGE INSERT FOR COMPLETE DETAILS BEFORE USING THE SPECIFIC PRODUCT.
Ordering Products
Fax no. for Orders:
+27 21 427 6442
Email address for Orders:
ZoetisOrders@zoetis.com
Physical Address:
Zoetis South Africa (Pty) Ltd.
Co. Reg. No.: 2012/001825/07
6th Floor, North Wing, 90 Rivonia Road, Sandton, 2196.
Tel:
+27 11 245 3300 or 0860 ZOETIS (0860 963847)
Postal Address
Zoetis South Africa (Pty) Ltd
PostNet Suite 53
Private Bag 9976
Sandton
2146

You are leaving the country website to access another site in the group.
Regulatory constraints and medical practices vary from country to country. Consequently, the information provided on the site in which you enter may not be suitable for use in your country.